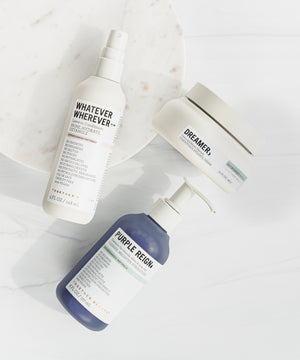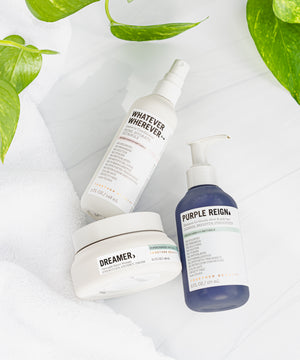 The Bright Tone (Brightening)
Regular price
$113.08
$95.15
Bundle
Allow Purple Reign 2 to 5 minutes to absorb before rinsing as a mild glaze or toner.
Frequently Asked Questions
Does Purple Reign only work on blonde hair?
Purple Reign works on blondes, silvers, and grays. This 98% natural purple shampoo will refresh highlights and neutralize brassy yellow tones.
Why does Purple Reign have artificial dyes?
The product is formulated with food grade levels of artificial dyes in order to give the product formula its vibrant color.
Do I have to leave Dreamer on overnight?
No. You can leave it in your hair for at least 10 minutes and rinse out.